We provide best products such as cake cutting machines, rusk packing machines,Sweet cutting machines, Cookies depository etc.We ensure that our manufactured machines are stringently quality tested as per international quality standards. To examine the whole process and products, we adhere to a strict quality norms. Thus, our products are highly appreciated by our clients for their superior features such as trouble free performance, low maintenance, easy installation and durability.
Cake Cutting Machine
CCM-01 MULTI SIZE CAKE SLICING MACHINE (High Productivity)
Capacity:
Cutting Shapes : Square , Rectangular ,Triangle , Diamond, half Diamond , Round Into pieces and Polygon
Cutting Speed : Min 20cut / min, Max 50 cut/ Min
Table Speed : Min 3 M/ min, Max 25 M/min
Steps of Cutting : Rapid, Cream Cutting and Cake Cutting
Specification :
Power Supply : Single Phase -240v/50Hz
Power Consumption : 1 kw
Machine Size : 1200L*1110W*1500H mm
Round Cake Size : Maximum 400 mm Dia
Table Size : 600 mm (23.6") x 400 mm (15.8")
Machine Futures :
Material : Food contact parts are fully SS304
Blade : Non corrosive coated Blades
Controls : Panasonic PLC , Nidec Servo and shimpo gearbox
Axis : Totally 4 Axises - Y Axis , R Axis , Z Axis and W Axis
Noise : No
Maintenance – Easy and Less
Speed : Always Even Speed because no pneumatic drives
Safety Features :
Protected with hand safety guard and alarm.
Try Safety and alarm.
Horizontal Cake Slicing
LCM-01 Horizontal Cake Slicing (High Productivity)
Capacity
:
300 PCS/Hour ( Base on Dia 300mm)
Speed 3000 Hamburgers
Number Of Slice : 6 Slices Max
Increment of cutting Step 5 mm x 24 pitch
Effective Cake Size in Round – 400 mm Dia x 150H mm
Effective Cake Size in Rectangle – 600L x 400W x150H mm
Specification:
Power Supply : 3 Phase -430v,50Hz (Single Phase with extra cast)
Power Consumption : 0.6Kw
Machine Size : 1050L*800W*1200Hmm
Weight : 180 Kg
Machine Features:
Full body SS304
Belts are made with food grade PU
Top and bottom Conveyors synchronized with Single drive
Adjustable top conveyor
Safety Features:
Protected with hand safety guard
UUCM-1 Universal Ultrasonic Sweet Cutting Machine
UUCM-01 ULTRASONIC SWEET & CONFECTIONERY CUTTING MACHINE
Capacity:
Power Supply : Single Phase -240v/50Hz
Max Power Consumption : 1.5kw
Machine Size : 1300L*1250W*2000H mm
Round Cake Size : Maximum 400 mm Dia
Table Size : Squ , Rec ,Triangle and Diamond 600 mm (23.6") x 400 mm (15.8")
Cutting Speed : Min 10 cut / min, Max 60 cut/ Min
Carriage Speed : Min 3 M/ min , Max 25 M/min
Safety Features:
Protected with hand safety guard and alarm
Pneumatic Pressure Switch Safety and alarm
Covered try Safety and alarm
Metal Tray Safety and alarm
Open tray Safety and alarm
Ultrasonic Over temperate Safety and alarm
Ultrasonic Error Safety and alarm
Special Features:
Cutting Shapes ,Round ,Square ,Rectangular ,Triangular ,Diamond, Half Diamond Mound and Polygon.
Best cutting Result with nuts and fruits
Machine able to cut inside the metal and paper trays,(With conditional)
German Made ULTRASONIC Systems
This Machine Equipped with Ultrasonic Titanium Cutting Blade with 305 mm Long
Self-Cleaning Systems , equipped with Water and Air
Pneumatic dry air required for ultrasonic cooling and blade cleaning
1.5KW single Phase Power is enough to run the machine

This machine well controlled Mitsubishi Systems for Smooth function
X Axis Servo Motor
Y Axis Servo Motor
Z Axis Servo Motor
Rotary Axis Servo Motor

70 Recipes can save inside machine, Fast 4 type of medium speed ( soft ,Very soft ,hard and very hard ) selection mode on each recipes

Each Medium Has following Speeds for Quick and smoothFuction
Rapid for empty cutting space
Very smooth Cream Cutting
Effective cake cutting speeds
Rabid Return Speed

Less maintenance
Cutting Speed 10 to 60 cut per minute can achieve ( in pneumatic machine Speed 20 to 30 cut per minute only can do)
Best Result With Frozen Food ( Limit -20° to +50°) Like Cheese, Ice cream cakes , Mysore pak , Halva, Soan Papdi , And Other Milk Sweets ,Candy's, Chocolate bar& Meat Pies & Fish
Very user friendly touch screen Programs, (image based)
UUCM-2 Universal Ultrasonic Sweet Cutting Machine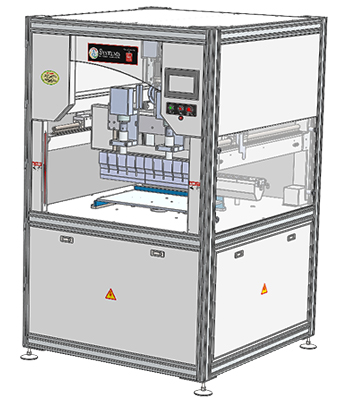 UUCM-01 ULTRASONIC SWEET & CONFECTIONERY CUTTING MACHINE
Capacity:
Power Supply : Single Phase -240v/50Hz
Max Power Consumption : 2 kw
Machine Size : 1300L*1200W*2000H mm
Round Cake Size : Maximum 400 mm Dia
Table Size : Squ , Rec ,Triangle and Diamond 600 mm (23.6") x 400 mm (15.8")
Cutting Speed : Min 10 cut / min, Max 60 cut/ Min
Carriage Speed : Min 3 M/ min , Max 25 M/min
Safety Features:
Protected with hand safety guard and alarm
Pneumatic Pressure Switch Safety and alarm
Stopper Safety and alarm
Ultrasonic Over temperate Safety and alarm
Ultrasonic Error Safety and alarm
Special Features:
Cutting Shapes ,Round ,Square ,Rectangular ,Triangular ,Diamond, Half Diamond Mound and Polygon
Best cutting Result with nuts and fruits
Machine able to cut Only open tray
German Made ULTRASONIC Systems
This Machine Equipped with 2 Ultrasonic Titanium Cutting Blade with 305 mm Long
Self-Cleaning Systems , equipped with Water and Air
Pneumatic dry air required for ultrasonic cooling and blade cleaning
2 KW single Phase Power is enough to run the machine

This machine well controlled Mitsubishi Systems for Smooth function
Y Axis Servo Motor
Z Axis Servo Motor
Rotary Axis Servo Motor

70 Recipes can save inside machine, Fast 4 type of medium speed (soft ,Very soft ,hard and very hard)
selection mode on each recipes

Each Medium Has following Speeds for Quick and smoothFuction
Rapid for empty cutting space
Very smooth Cream Cutting
Effective cake cutting speeds
Rabid Return Speed

Less maintenance
Cutting Speed 10 to 60 cut per minute can achieve ( in pneumatic machine Speed 20 to 30 cut per minute only can do )
Best Result With Frozen Food ( Limit -20° to +50°) Like Cheese, Ice cream cakes , Mysore pak , Halva, Soan Papdi , And Other Milk Sweets ,Candy's, Chocolate bar& Meat Pies & Fish
Very user friendly touch screen Programs, (image based)